Japanese journalist Yuko is on a mission to visit all 92 English football clubs!
​
In England where Association Football originates, there are many proud football clubs with long history and rich heritage. Their top tier is the Premier League, accordingly the most watched football league in the world.
But English football is not all about watching Harry Kane scoring a goal. Each club has colourful culture, tradition and heritage developed over a century and every single one of them has some great characters around it.
Yuko is on a mission to visit all 92 football clubs in Premier League, Championship, League 1 and 2. However, she is not going there just to watch the match, but to discover unknown culture, heritage, lifestyle and characters around the club.
She is female, Japanese and non-football-hardcore. With her fresh, humorous and occasionally cynical eyes, she observes and experiences the country's heritage from the perspectives of gastronomy, literature, science, history and so forth and she explores quirkiness of English football and eventually of the English.
Her journey starts at her neighborhood Arsenal. Walking into the Gunner's pub, she is stunned by the painting of ceiling. 'This place is the Sistine Chapel for Arsenal fans' says Andy the pub owner. 'What?!' Yuko laughs it away patting tipsy Andy. But drinking local ale and looking up the overwhelming art work, she starts thinking, 'well, football may really be a religion… ' So we shall call her journey 'Football Pilgrimage.'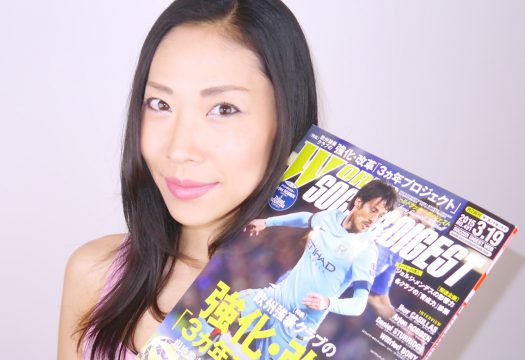 Through the journey to 92, can Yuko finally have an access to the essence of English mentality deeply carved in football? If you are a football fan, you will understand more about English football. If you are not a football fan, you will understand more about this quirky nation of England.
Her 'Football Pilgrimage' is commissioned by one of the biggest selling Japanese sports magazines  World Soccer Digest and currently run as a monthly travel column, gaining coverage by BBC Radio.
Football Pilgrimage on World Soccer Digest
Here are some examples of Yuko's work published monthly on World Soccer Digest magazine!
English Football Clubs I have visited…